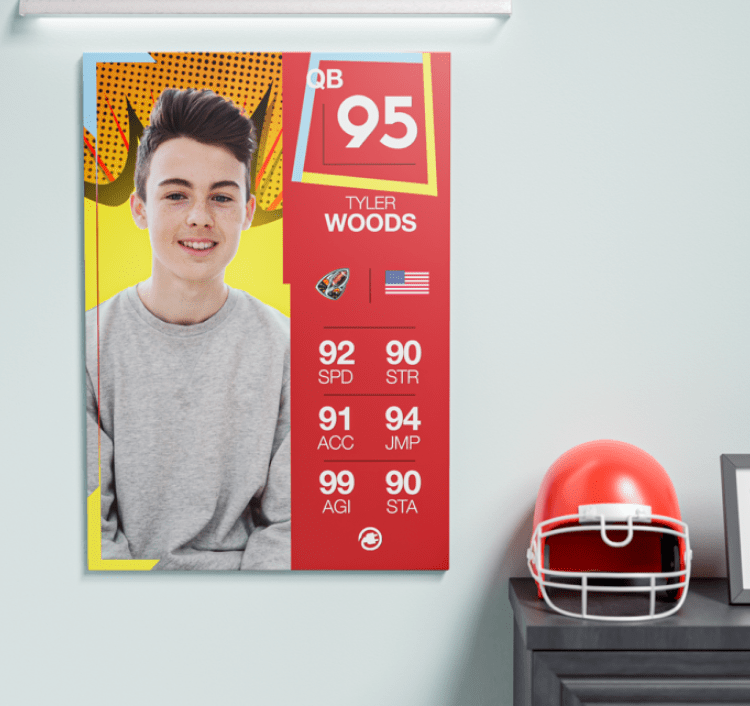 The perfect gift


for true football fans
The world's only fully customizable real-life football card.
"Great football gift and customer service"
Shop best-sellers
Customised real-life football cards, made with high quality materials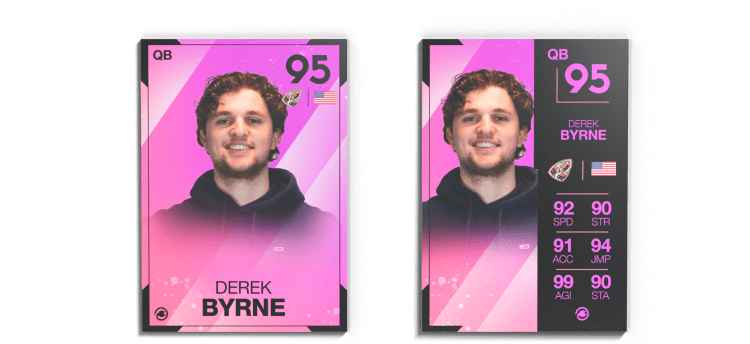 Football cards explained
Available in 2 customizable styles
Available in 2 customizable styles
Done for you service
Preview shown on builder
The CardsPlug card builder will show you an unedited version of your card. This is normal, don't worry.
Uploaded image
Upload your original image with the background included. For better practices, click here
Final design
Final product after purchase will have the image(s) edited by CardsPlug design experts to ensure it looks perfect
Done for you service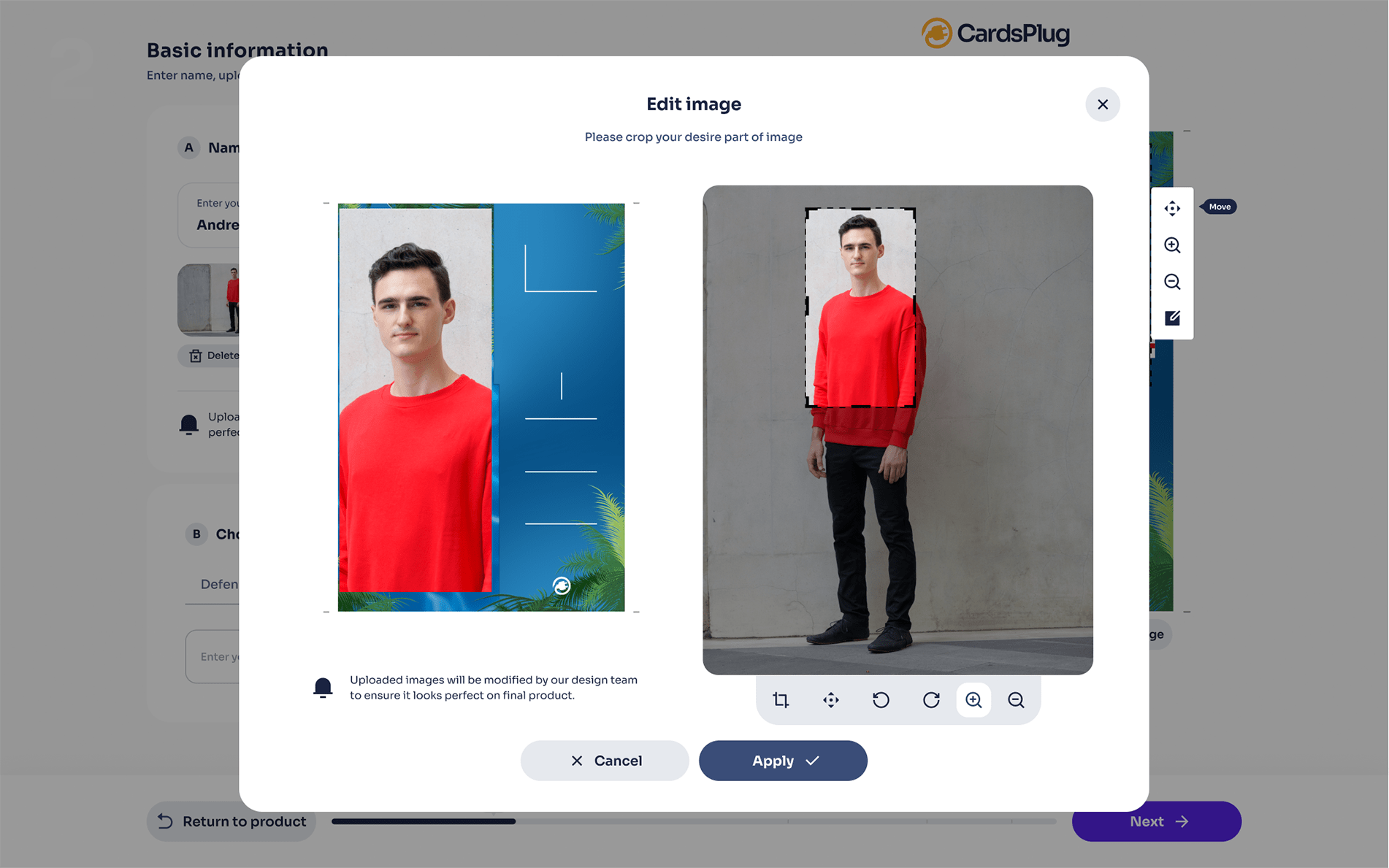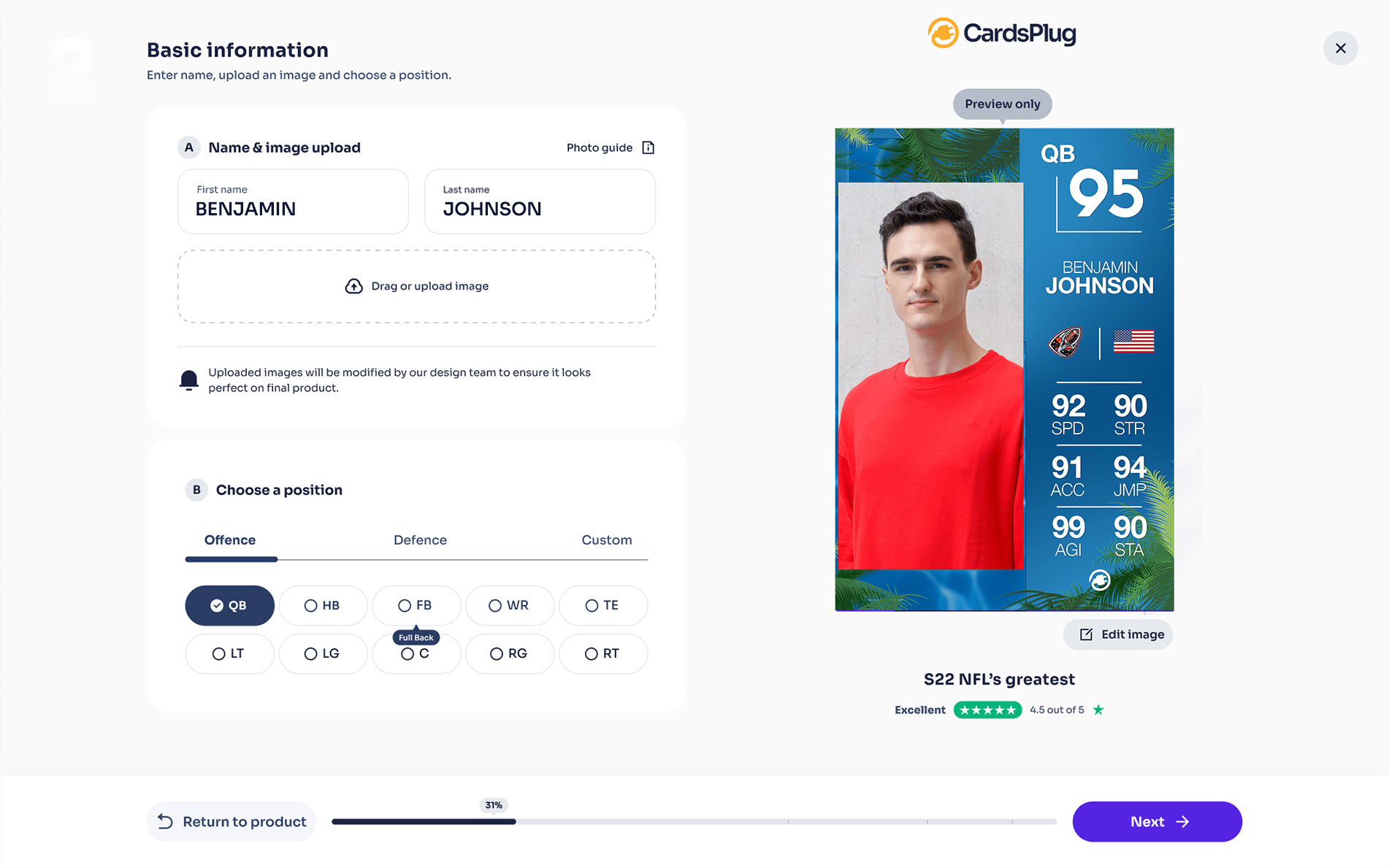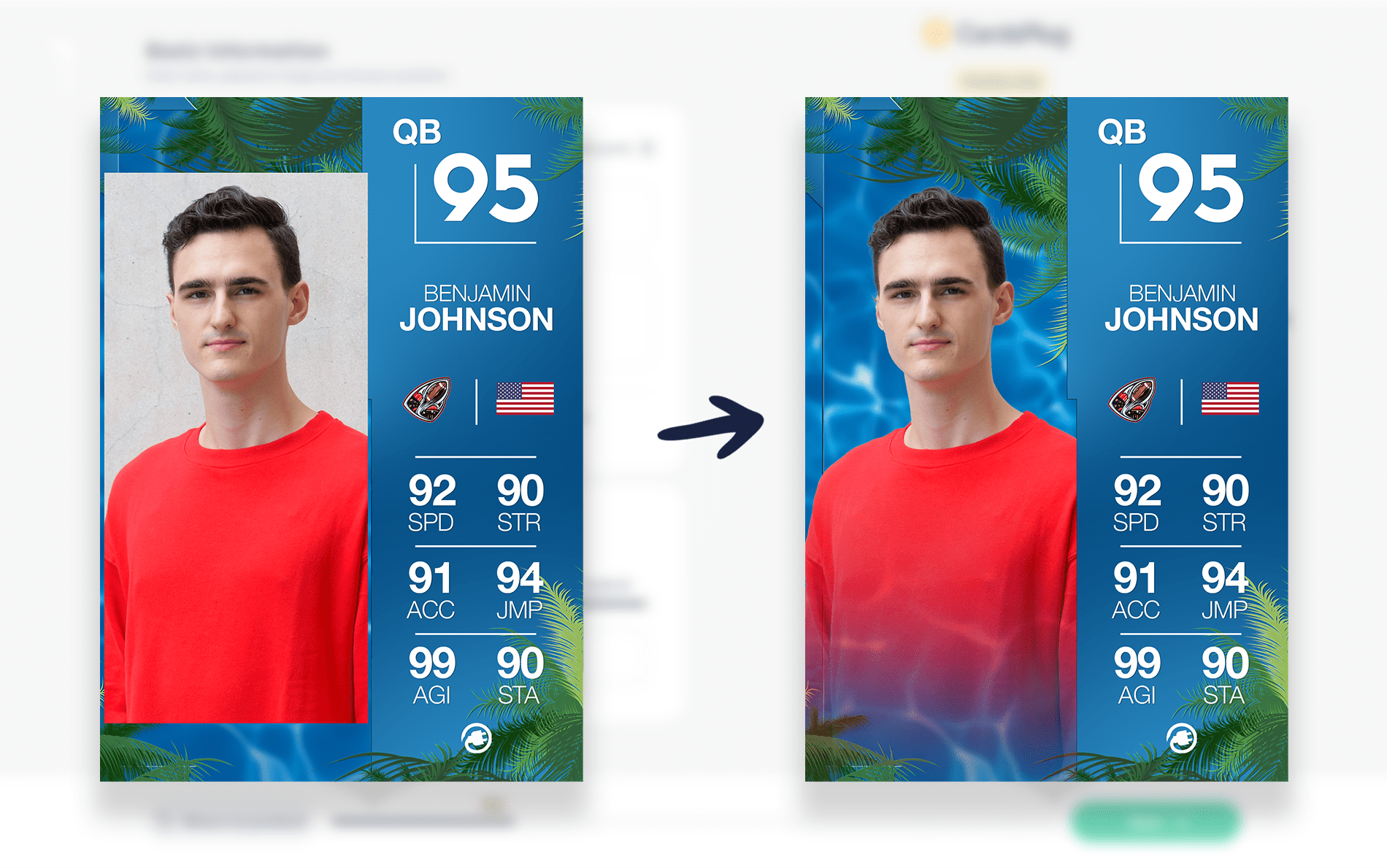 Why choose cardsplug
Alex T
If you're not sure that this is a nice gift, or have had bad experiences with this type of gifting, hear me out: I've used CardsPlug on several occasions, for different age groups, always very welcomed gifts, and communication from the team is second to none, and on the latest purchase their...
Nic McMillan
I came across Cardsplug as an advert on Facebook. My boys (16 and 6) are massive Madfut fans and I play it too! It helps me learn the players customer_names! So when they had a promotion for their recent birthday, I took the plunge and ordered one for each of my boys! My eldest is aware that I have one for...
Wendy
This was definitely a great surprise. I got this sent to my work so that my partner wouldnt see it.. and when I finally had the chance to give it to him.. He laughed out so loud that we were both on the floor crying We later talked about how I got his statistics and I told him thats why I asked...
Pieri Sotiri
Always a bit sceptical about ordering things that I see advertised on Facebook or Instagram which is why I ordered the smallest card available but I now wish I'd ordered a bigger one.I uploaded my son's photo when ordering the card and I got an email with a preview after a few days. I was really...
Mark Jones
These are great and with outstanding customer service its a no brainer if you have a football mad kid like I do.So firstly the design process is pretty easy. You get to pick all the stats and even upload your own team logo. Then the Cardplugs team work their magic and make it look awesome. You get...
Matt
I can't say enough good things about the products and the company. The cards are so cool and look amazing. Great quality productsExcellent customer service. I had an issue with my order and they corrected it immediately. Fast response time, editing, and shipping. 100% satisfied. Highly recommend...
Joe Miller
Really excellent stuff. Quite happy with it. I got an email a couple days after ordering that the card had been printed, but they weren't happy with the way it turned out so they were doing a reprint - still only took a few days to arrive! That's the kind of service every business should have...
Doug Russell
I just got my preview from this company and it's fantastic! I ordered on their busiest day of the year and not only did I get my preview in 3 days but the day of I was having an issue with a promo code and they answered a twitter customer_message in record time! They made sure the experience was good...
Glen
Superb service when ordering the card for my son. Lovely to have a chance to view before printing too. Quick service as well. Great value for money too. All round fantastic product and service...
Natalie Taylor
From order to delivery the process and product has been fantastic. There proofing system is great, I did need to make a change due to a mistake at my end but this was no problem and caused minimal (if any) delay to shipment. My son is delighted with his card which is now mounted, pride of place...
If you're not sure that this is a nice gift, or have had bad experiences with this type of gifting
Alex T
I came across Cardsplug as an advert on Facebook. My boys (16 and 6) are massive Madfut fans and I play it too! It helps me learn the players customer_names!
Nic McMillan
Why choose CardsPlug
Authentic Football Designs
Inspired by real NFL and Madden trading cards.
Easy to use card builder
Add images, choose a club and enter stats
Image edits done for you
Our designers will edit images you upload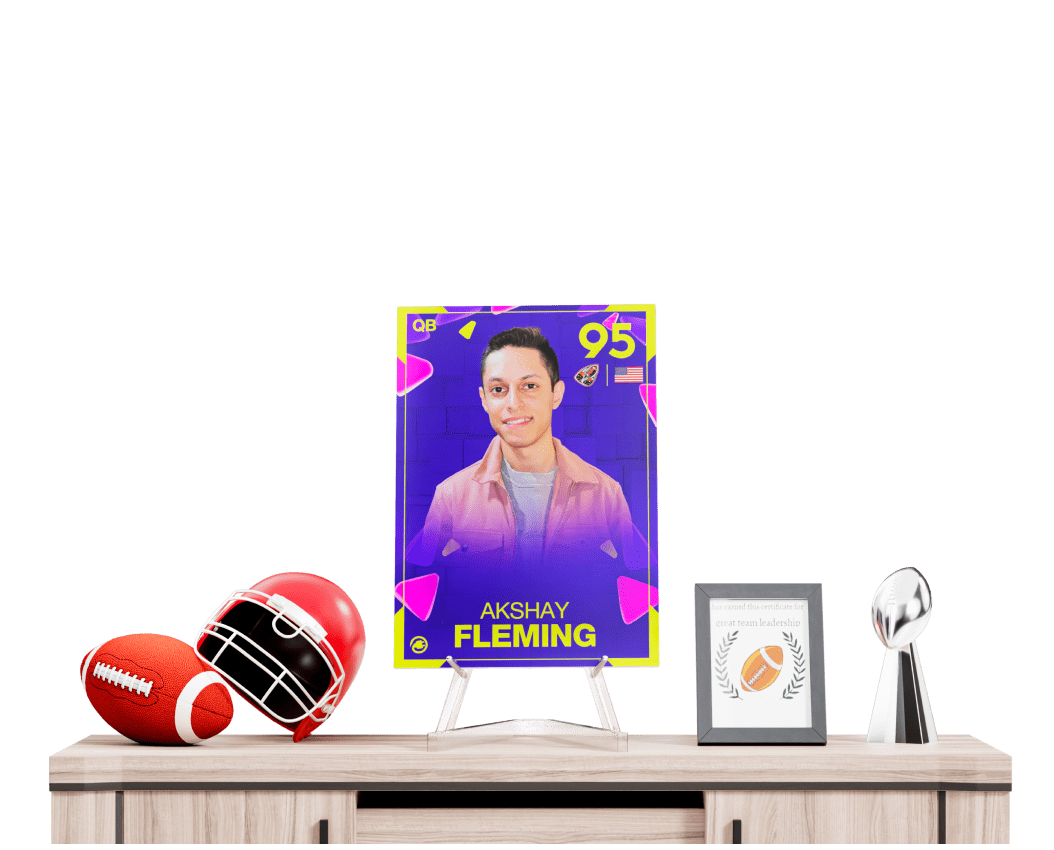 Preview Before Printing
Level up the gaming setup
Unique Birthday Gift
One of a kind keep-sake
Dedicated Customer Service
Ensuring satisfaction from start to finish.
Perfect For The Big Occasion
Frequently asked questions
What is CardsPlug?
CardsPlug started its journey 5 years ago creating personalised soccer cards similar to what you see in FIFA 23. Since then we have served over 258,000 customers and received 6,000+ positive reviews on Trustpilot.

American football becomes our second sport to be added to our collection of amazing products. With many designs to choose from and some inspired by Madden cards seen in games like Madden 23 and Madden 22.
How do I customize my life-size football card?
Making a personalised football card is easy with CardsPlug. All you have to do is choose a card design and size. Before following the simple steps in our online card builder.
When it comes to personalising your card, the basic steps are to upload a photo and add a name to your card. Then you'll add details like your player's position and skill ratings out of 99 for each football skill shown on the card if you've selected the detailed card. Our online card builder makes this really easy. And if you aren't a football card expert, don't worry!
If you are not sure about anything our friendly support team are always here to answer your questions. The support team can be reached at
support@cardsplug.com
What are the cards made of?
Our football card builder lets you choose between two different card materials. Our Standard cards are made of a ultra-strong variety of Foamex (not cardboard or foam!). This material has a lovely gloss finish and is also super durable. Our world-exclusive Metal football cards have a matte finish and are slightly heavier. Both look amazing and will last forever.
Can I view my order before it is sent?
Yes! After we've edited and designed your football card, our design team will send you a full preview of your football cards before we print them. This gives you the chance to spot any urgent errors. It also lets you show off the preview to your family and friends!
Will CardsPlug edit my photo for me?
Yes! Our football card designers will remove the background from the photo you upload so it looks just like the football cards you might've seen games like Madden 23. We'll also position the photo perfectly on the football card so it looks great. If there are any problems with the quality of your photo, we'll reach out and let you know.
What is Gold Standard Guarantee?
Every CardsPlug card is backed by our Money Back Guarantee.

If you aren't 100% happy with the design, print, or quality of your card, we will replace it free of charge.

What's more, we will fast-track your replacement and use the quickest shipping method available.

We can make this guarantee because we design and print every card in-house. We have invested heavily in the experts and technology needed to make every card amazing. But if you aren't fully satisfied, we will make it right!