Cyber Monday Sale : 25% Off Sitewide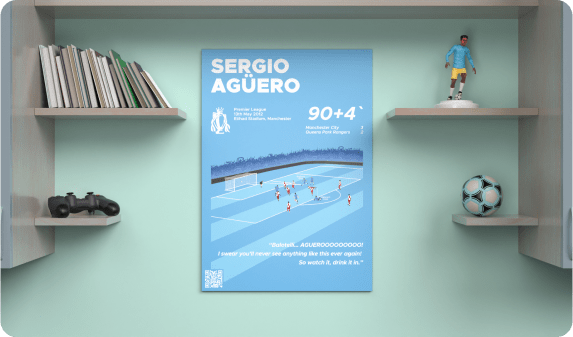 Made out of steel
Incredible goal recreation artwork
Vivid colors
Safe wall magnet mounting
Exclusive QRGoal feature
It's more than just a metal poster ...
We believe the best football moments should never die.
Use our QRGoal feature and relive it! Scan the QR code on your design to enjoy a full replay of your favourite moment.
Frequently asked questions
What are Match Moments?
Match moments are the perfect way to forge unforgettable football moments onto a metal poster so they can be with you forever. All match moments include our unique QRGoal feature which lets you rewatch the moment at any time.
What shall I do if I received the wrong Match Moment?
This is very, very rare. But accidents do happen! If you receive the wrong match moment from us, please let us know and we will send you the correct one straight away free of charge.
What is Gold Standard Guarantee?
Every CardsPlug card is backed by our Gold Standard Guarantee.

If you aren't 100% happy with the design, print, or quality of your card, we will replace it free of charge.

What's more, we will fast-track your replacement and use the quickest shipping method available

If for any reason your replacement is still not up to the standard it should be you will recieve your money back.

We can make this guarantee because we produce every moment in-house. We have invested heavily in the experts and technology needed to make every print amazing. But if you aren't fully satisfied, we will make it right!
Choosing a selection results in a full page refresh.